On Thursday, the theater group and the literature group split for the day. The literature group went to a graveyard to see some famous corpses. The theater group participated in a super-awesome-cool stage combat workshop.
We learned how to slap, punch, and choke our fellow actors safely. It is completely different from martial arts. Its to be expected, of course. In martial arts, the point is to hurt the other person.
After, a few of us went to take pictures. We went by the lions outside the National Gallery, and then to Westminster so I could get a picture at one of the oversized phonebooths. For dinner I had an acceptable pot pie.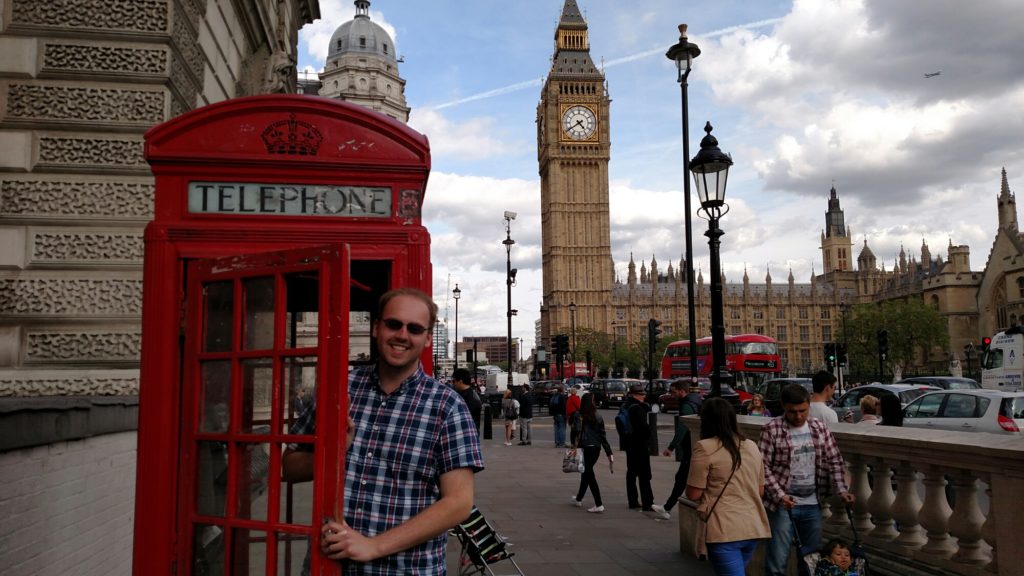 In the evening, we saw The Play That Goes Wrong. I had no idea what to expect. When we reached the theater, one of the reviews they had posted read "ITS AS IF THE MOUSETRAP HAS BEEN TAKEN OVER BY MONTY PYTHON." This was going to be good.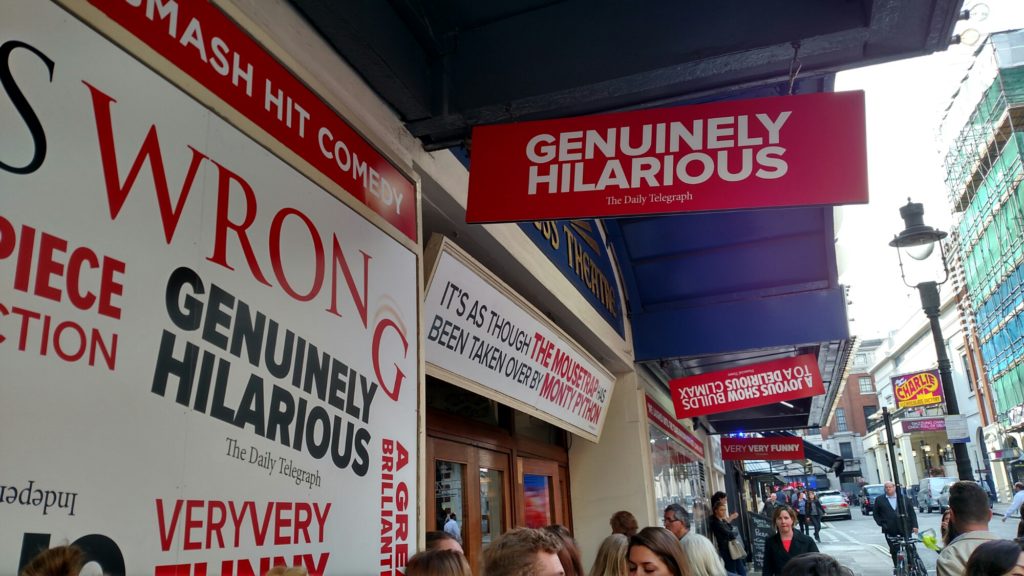 My goodness, good was an understatement. I loved it so much I purchased the script at the box office. I don't even know what words to say about it. It was hilarious. It was fun to watch. I was crying I was laughing so hard. It was amazing. And it was so much better having seen The Mousetrap beforehand too. I felt I caught more of the murder mystery nuances there, as well as the parodies of specific characters.

7 out of 5: Would Recommend to Friends.
---
Friday. Went to the Victoria and Albert Museum. Saw some stuff. The old statues and stuff were cool, especially the pair of statues "Valor crushes Cowardice" and "Truth slays Lies." They even had an Oculus Rift!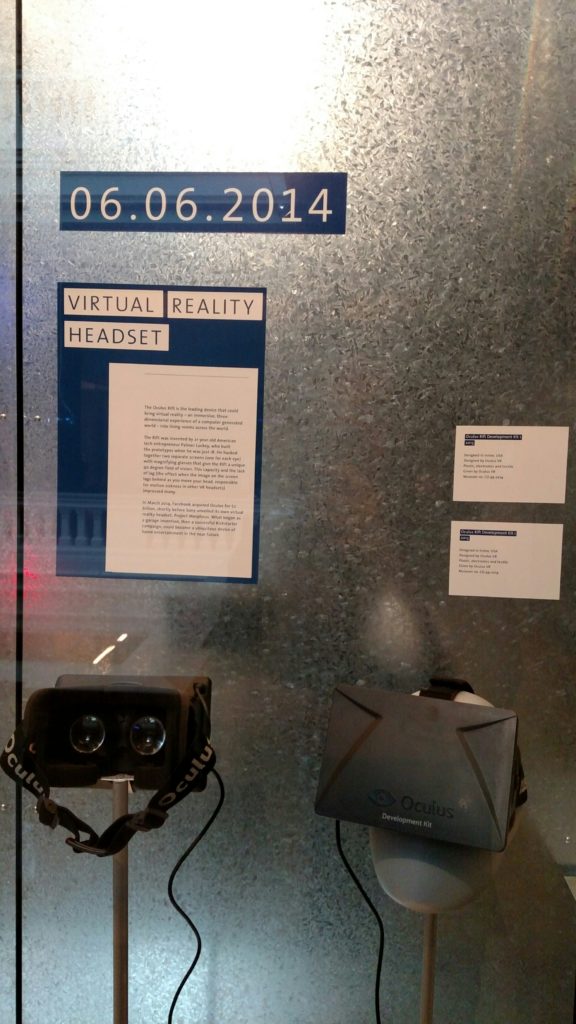 After eating, I picked up a piece of German Crumb Cake, a piece of Clotted Cream Fudge, and Cream Fudge. They were all amazing. I also had a major sugar crash soon after. Oops.
We then went to the Tate Modern, an art gallery for modern art. I'm not much of a modern art person, so I was only there for about 20 minutes before I wandered back to the hostel to recover from my sugar crash (I did see everything before I left, promise!). Maybe I'll check out the Tate Britain instead sometime.
Then we saw an adaptation of Everyman. Fantastic. I gave it a standing ovation, the only one I have so far this trip. If I gave The Play That Goes Wrong a "7 out of 5," then Everyman gets a "9 out of 5." It was thought-provoking: it makes you consider everything about yourself. I don't want to talk too much about it, so as to avoid giving many spoilers. One thing I will say about it though, is that the adaptation was beautifully done. I was somewhat familiar with the play beforehand (remember, I learned my lesson after Les Mis!), and I was expecting a Shakespearian-style or Reconstruction-style play. Not so. Everyman blew my expectations right out of the water. This was the only play in England that I awarded a standing ovation. It deserved it.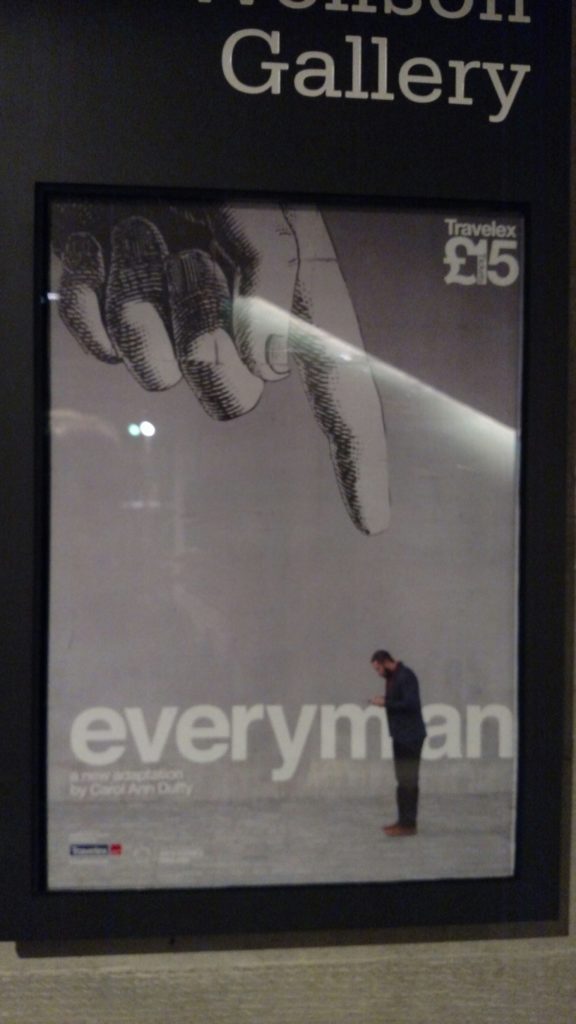 Needless to say, I purchased another script from the gift shop.
Fortunately, the employee was restocking the shelf when I was looking for it, otherwise I wouldn't have seen that it was for sale. The adapted version!