My days sure seem to be blending together! Its incredible how busy we've been the last two weeks.
Day 11
On Thursday, the theater group participated in a workshop at a studio owned by the National Theater. We worked with an actor from War Horse, and we learned how to work in a team to create a realistic-looking horse. I was complemented on my horse lore. When encountering big scary monkeys, they tend to backpedal when approached. If the big scary monkey has food, though, they follow tentatively if the scary monkey's back is turned to them.
After the workshop, a group of us wandered the city a while. We ate food (an American-style burger and malt shop, if I'm not mixing my days up), rode around on the public transportation, and eventually found ourselves at a tea shop.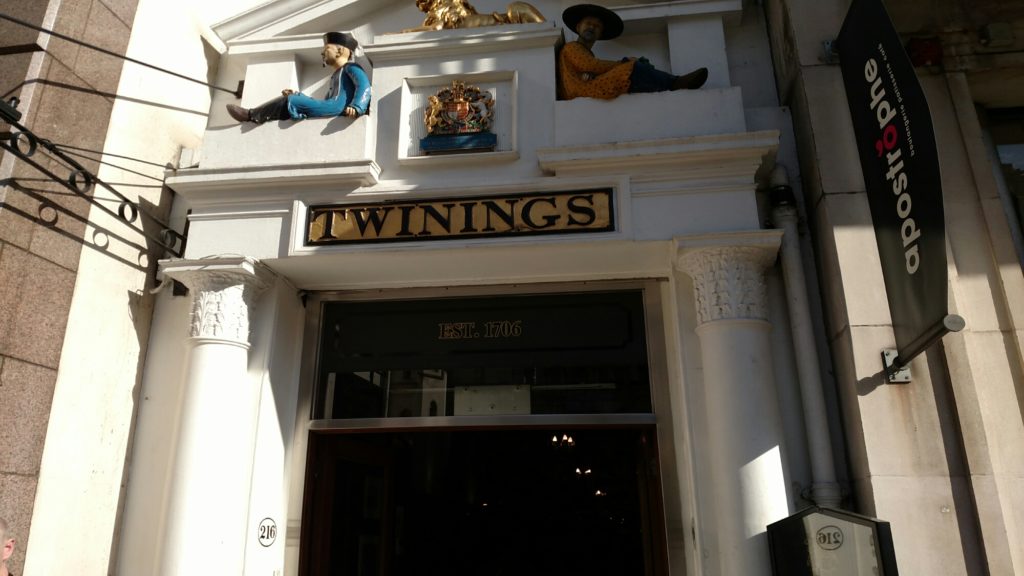 Some of the tea smelled nice, but I wasn't much for trying to haul tea back to the states, nor do we have the facilities to prepare it at the hostel. We happened to run into another group at the shop. The others wanted to go back to the hostel to get ready for the play. I was already ready, so I stayed with the others at the shop. Once everyone was done at the shop, we headed out towards The National Theater.
We found a park to sit in, and I played "guess the nationality," my new favorite game while in London. The game is simple: listen to someone nearby, and try to guess where they're from based on how the look and talk. Its super difficult, and I suspect I usually guess wrong, since my answers have basically only been "She sounds French," "He sounds German," and "I think that group is from Canada," so far.
We then meander over to the theater, where we watch The Beaux Strategem. I read the synopsis beforehand so that I would have an idea of the storyline before the play starts (I realized after Les Mis that it was important!).
The play was brilliant! I was laughing throughout the entire show–good thing, too, since its a comedy! I loved the music, too. It wasn't really a musical, but it had a bluegrass Celtic-sounding band playing during scene changes. A couple of short songs were in it, as well–mostly for humor. It had a semi-realistic plot (looking at you, Merchant of Venice). Overall, this was the best play I've seen in London so far. Note that I said best so far. It'll be important later.
After the play, a handful of us went to find a bite to eat. As we were walking, we were talking. In fact, we were even having a discussion. We discussed that we wanted pizza. We didn't find a pizza place. So we hopped on the underground, hopped off at a random station, and selected to turn right (at random). The first restaurant we found: a Pizza Express. What good fortune!
We were incredibly loud in the restaurant. We knocked over the water jug. We spilled the tomato sauce. We asked the waiter to split the bill between the five of us, even though we only had two appetizers. He refused. It was fun.
Day 12
Friday. We slept in a little bit today. I woke up around the same time as I usually do. We had breakfast. (If Rachel says one more thing about those ham sandwiches… I jest, I jest.)
Today, we tour the Royal Court Theatre. This theater only performs plays that have not been produced anywhere else before. Because of this, they have a different relationship with playwrights. Instead of going through royalty companies, playwrights directly send material to the Royal Court. Play-scripts then go through a strict process to reduce their options from around 3000 to the eighteen or so that they are able to perform in a single year. In the workshop, we were privy to that process. We even had a mock script discussion!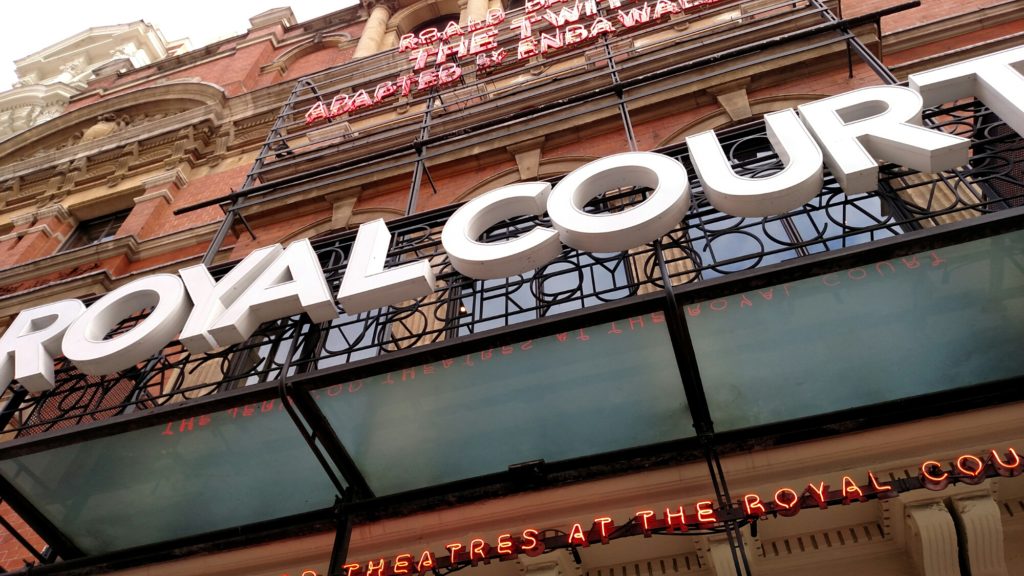 Most of us didn't like the play we were instructed to read, myself included. One person even gave it an "over my dead body" rating… mine was only a simple "no" rating. Lo and behold, this was a script that they had actually performed!
The Royal Court Theatre only performs full-length, contemporary plays. Full-length in England, though, is only 60 minutes of run-time–60 pages. American full-length is usually at least twice as long. Usually longer.
I will definitely be writing plays and sending it to them.
Day 13
Saturday. My aunt and uncle, who live in Germany for the time, visited me in London for the day. My uncle's folks came down from Edinburgh too! As I had some time before they arrived, I took some time to meander through Regent's Park. It was gorgeous. A beautiful pond, lots of flowers (I can only imagine what they look like in full bloom! Just like the Rose Garden in Duluth, I suspect), and I even got to peek at the Open Air Theatre. It was locked up, unfortunately, so I couldn't look inside. I suppose they take their Peter Pan performances seriously.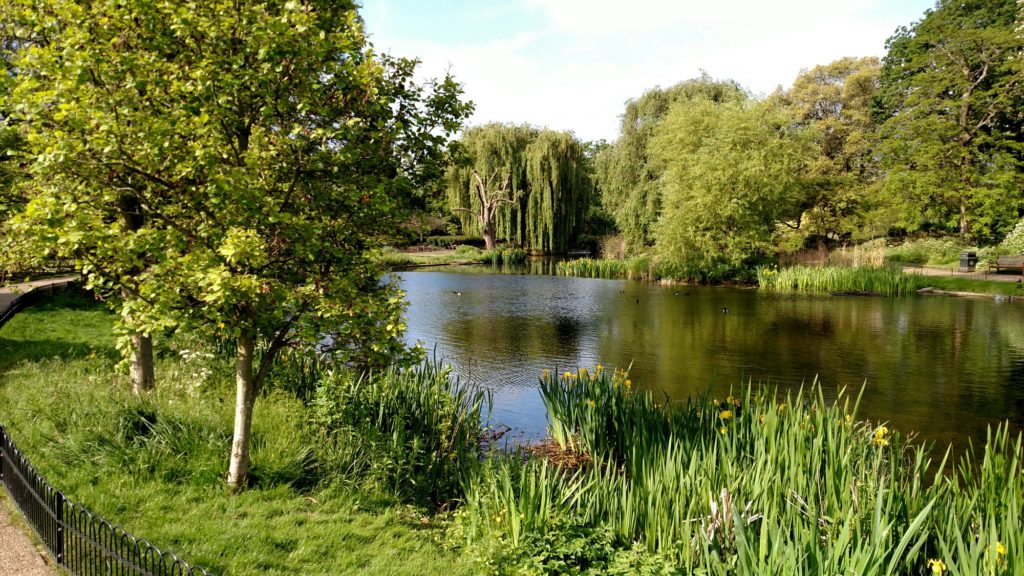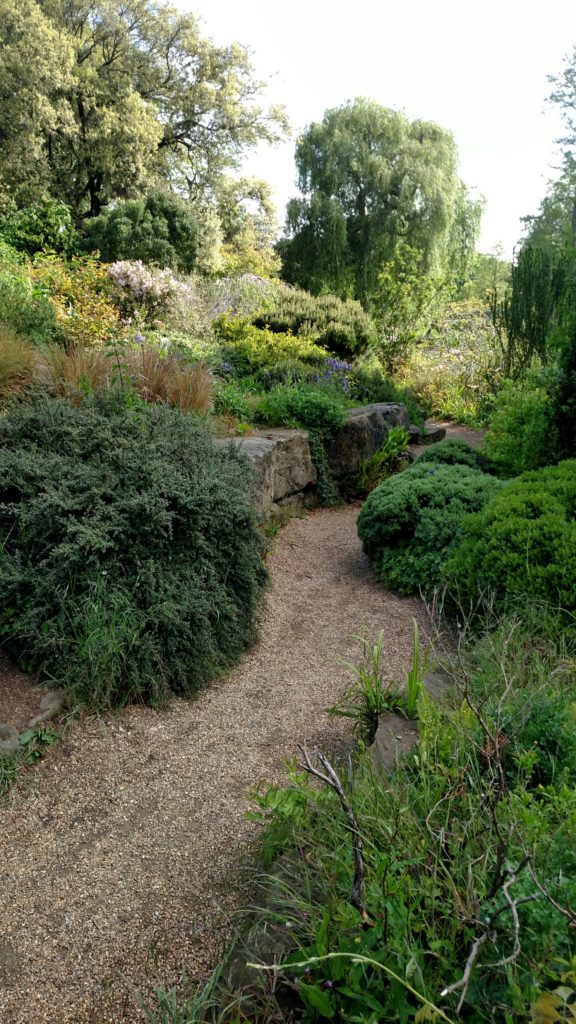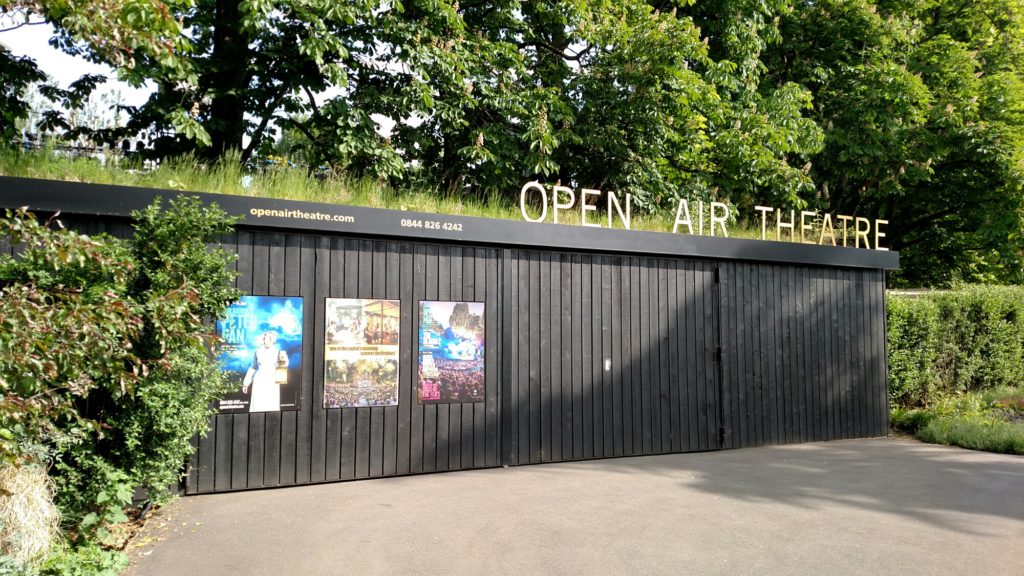 I found where the color scheme for the Ministry of Magic in Harry Potter came from. That awesome green? It was ripped right off the Regent Park underground station. I've been seeing a lot of stuff from the movies that I thought was super original and now am seeing that it was already somewhere in the city…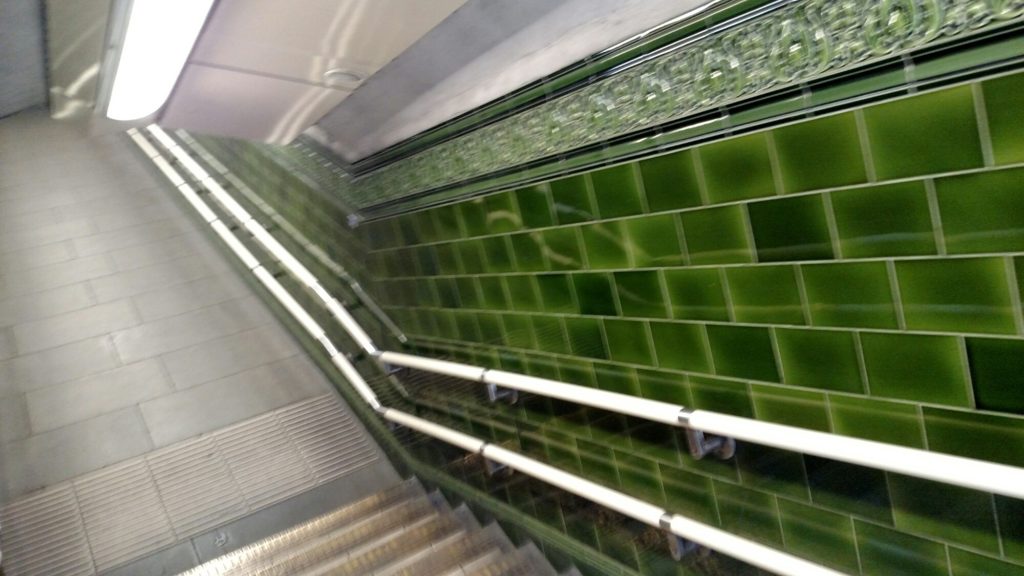 After I met up with everyone, we took the underground to Kew Gardens. We tried, at least. The underground wasn't running all the way out this weekend due to maintenance, so we had to shuffle between a few trains and then get on a bus. We only got turned around 3 times, so I consider it successful.
The area that the gardens are in are gorgeous. Huge beautiful flats, little stores, all the charm that I expected.
The gardens were super pretty. They have 30,000 different plant species in the gardens, if I remember correctly. Giant 10-metre holly hawk bushes, coffee plants, trees from the 1600s, all of it. We even walked along the treetop tour. I was hoping it would actually be a tour along the treetops, like a treehouse, but it was a walkway that simply was up at treetop level. Oh well.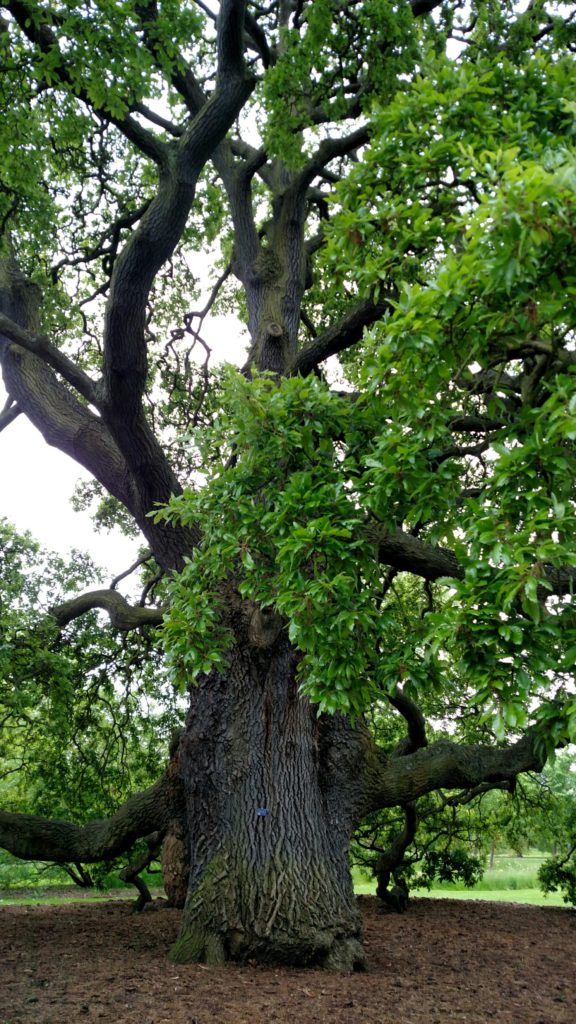 We then went to a pub called "Ye Olde Cheshire Cheese," but it was super busy and I was on a time crunch, so we didn't stay and wait for a table. Instead, we went to another place that I cannot remember the name.
We played "Guess the Nationality" here, too. The target this time was the pretty waitress. I guessed German, everyone else guessed Russian. This time she was actually asked, and the result was Ukranian. I had sweet potato and lamb pie. It wasn't all that good. Great veggies, though.
After eating, I said my goodbyes to everyone and my aunt went with me back to the hostel. I then went to see Agatha Christie's The Mousetrap with two of the others on the trip. I've read the script before, but nothing compared to watching it in London. When I read the script, I didn't understand most of the cultural references (like the meaning behind the name Christopher Renn, St. Paul's, or Edinburgh). Having spent two weeks in London, it was like watching a totally different script. I was really excited that the script I read had omitted the last scene, so I didn't know how it ended. And keeping tradition, I won't spoil the ending to anyone.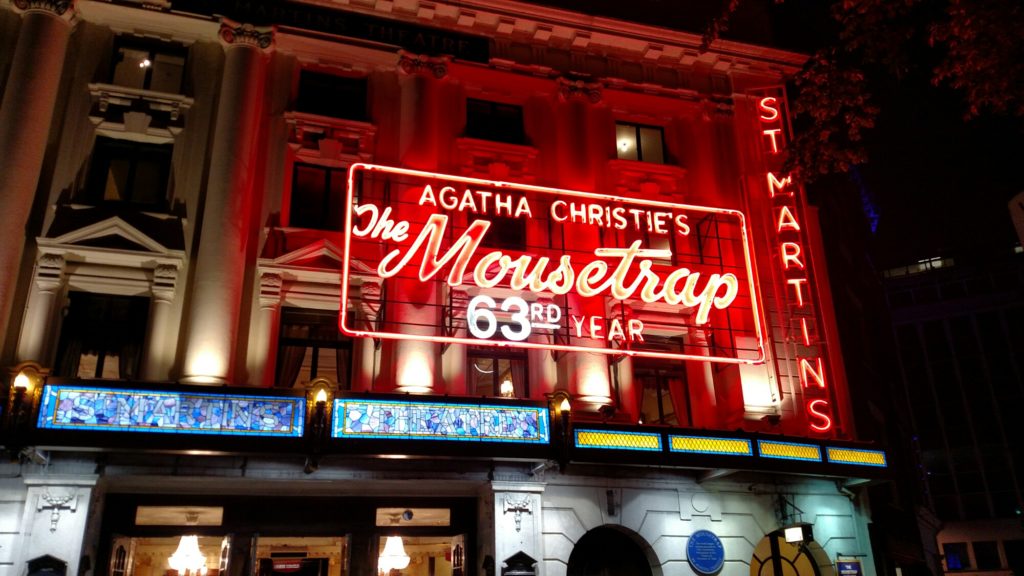 This is now the best play I've seen so far, bypassing Les Miserables and The Beaux Strategem. There's a reason The Mousetrap has been running for 63 years non-stop. It's a shame I can't say more about it without giving anything away. Go see it. Book a plane ticket to London just to see it. Right now.
…You haven't done it yet.
Day 14
Sunday. Do I go to the Science Museum, or the Natural History Museum? I decide to wait until the last minute to decide, as they both are at the same underground station. I decide on the Natural History Museum. Why? I dunno. Maybe because it was on the left instead of the right.
The NHM was awesome. Not The Mousetrap awesome, but still pretty cool. I saw some dinosaurs, a whale, a neat film on photography, and the largest laboratory in the UK called The Cocoon. I would love to be able to tour the inside of the facility, since tourists are only allowed on the tourist-floor.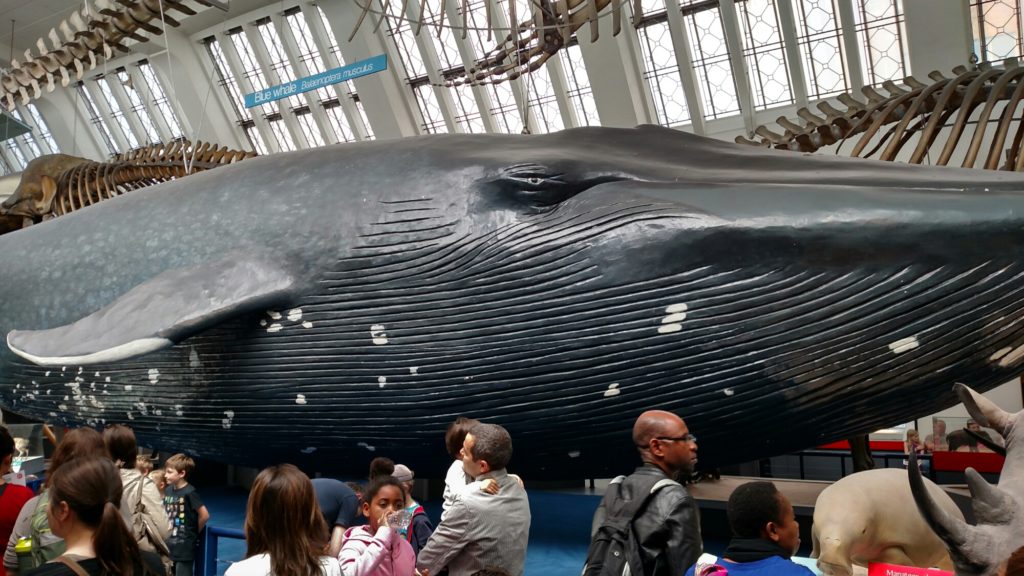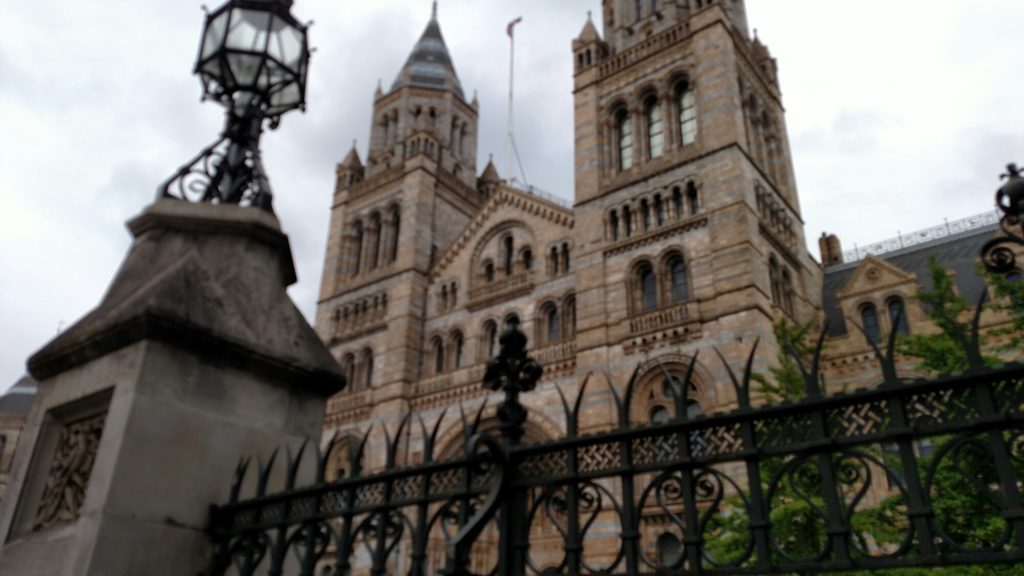 After the National History Museum, I made my way over to the Imperial War Museum, since that was what I found the most interesting in the Museum of London. I spent 2 hours there (they close for the day fairly early, unfortunately), and I wasn't even able to make it through half of the WW1 stuff. Its amazing how differently the war appeared to the British people. An incredible amount of history occurred before the United States entered the war that isn't covered in American history classes.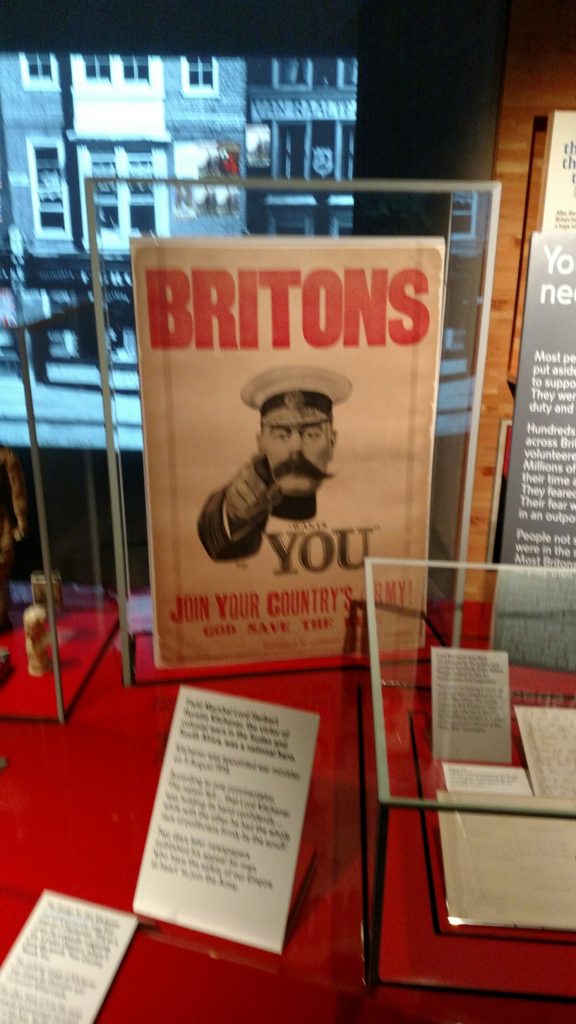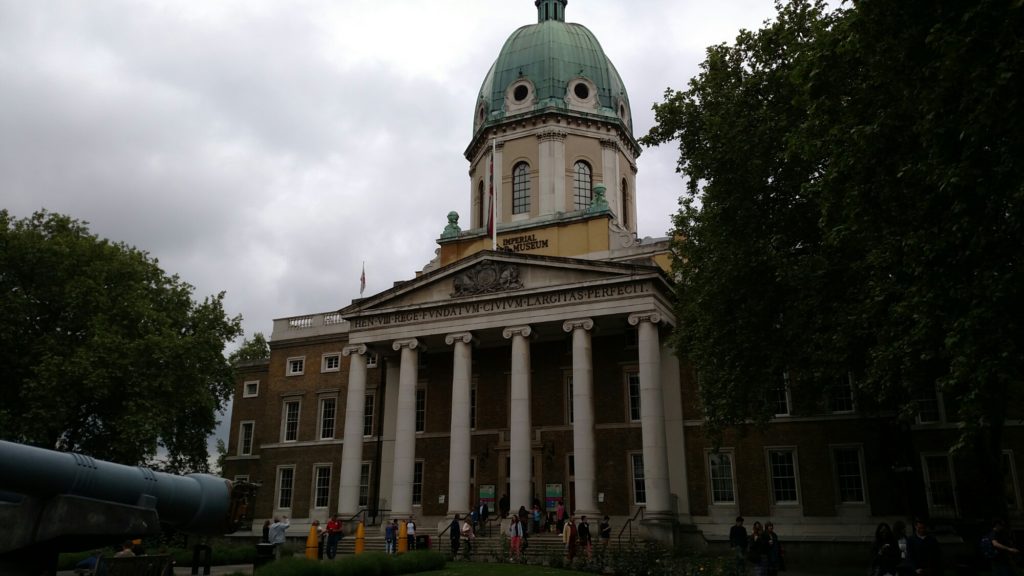 There was a ton of stuff I didn't see, and I will definitely be going back again.